Esquimalt BC Homes For Sale
About Esquimalt BC
Esquimalt was inhabited by the First Nations people of the Coast Salish linguistic group for more than 4,000 years before the first European settlers arrived. The town's name (pronounced Ess-KWY-malt) has been anglicized from the original "es-whoy-malth" meaning 'The place of gradually shoaling water'.
In 1790 the Spanish ship 'Princesa Real' arrived at the Esquimalt Harbour under the command of Lt. Don Manuel Quimper. In 1843 the Hudson's Bay Company came to the Harbour in search of a location for a Fort north of the 49th parallel. In 1848 First Nations people allowed 3 farms to be established in the area:
• Viewfield Farm (1850)
• Constance Cove (1753)
• Craigflower (1853)
In 1865 a large naval base was established and is now the town's largest employer. The original site of the town rests inside today's Canadian Forces Base and very little of the original settlements remain.
The township was incorporated in September of 1912. Today, the 17,000 residents of Esquimalt enjoy a host of amenities and a balanced mix of commercial residential, and industrial initiatives.
View Esquimalt BC Homes For Sale Real Estate Listings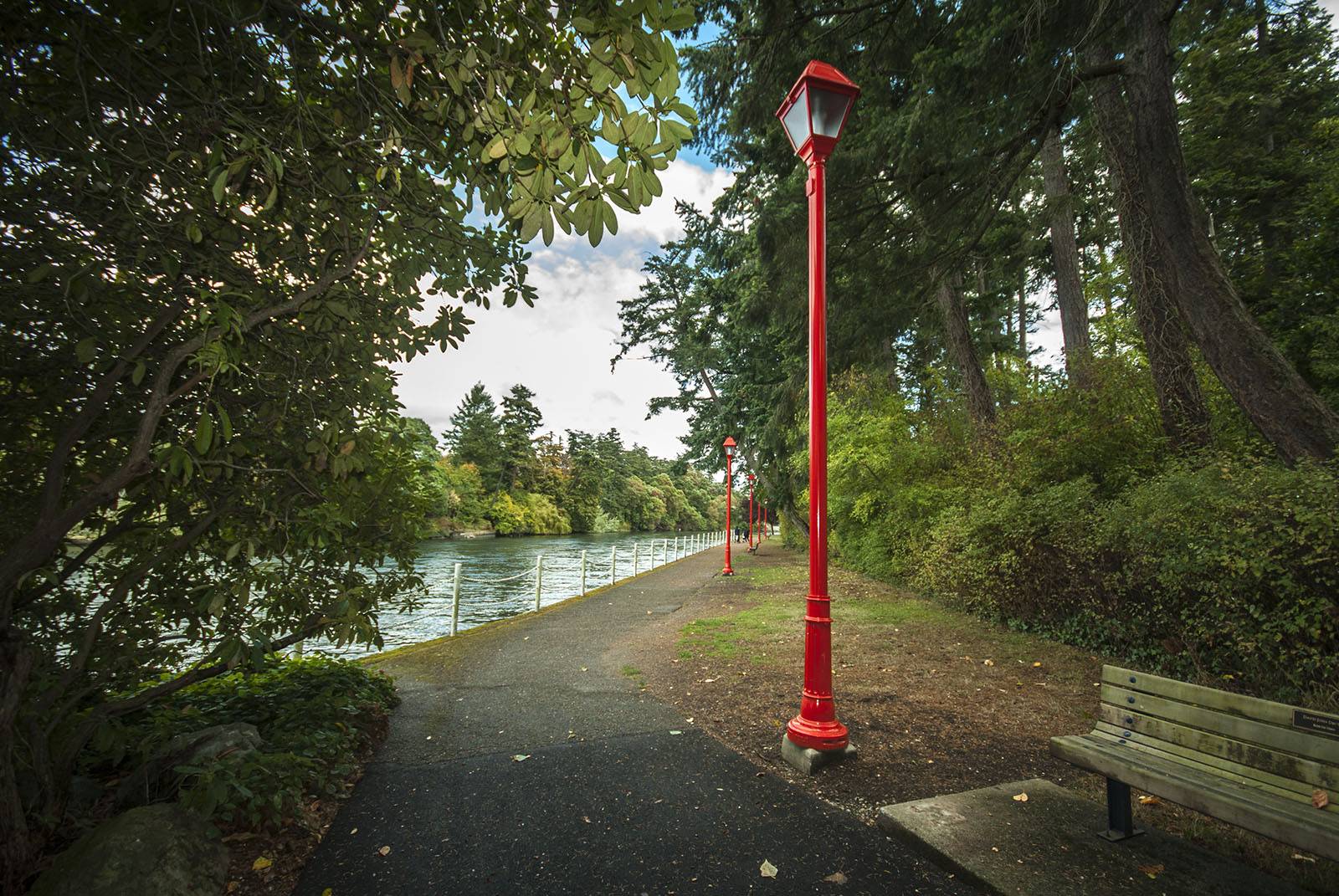 Esquimalt Real Estate Market Report
Esquimalt real estate has in the past, and continues to be, a sound investment. This is evidenced by the latest property tax assessments. 2015 saw assessments at $454,1000 and rose to $483,000 in 2016. Although assessment numbers in recent years remained steady, the latest increase shows that the future of Esquimalt is consistent with the areas projected long term goal in terms of growth.
Esquimalt's proximity to Victoria and an increasing tax base along with its amenities and recreational opportunities continues to draw families to the area. This trend is increasing the demand within the Esquimalt real estate market and raising property values.
Savvy home buyers seem to understand that purchasing a home in Esquimalt is a valuable piece to their future retirement plans as well as a great place to raise a family.
Esquimalt Attractions and Resources
Education is one of the things that young families look for when looking to purchase a home. Schools in Esquimalt fall under the jurisdiction of School District 61 which operates (among others) 3 public schools, and a French first-language school within the Greater Victoria School District.
Esquimalt is equipped with an emergency program with covers police, fire, and ambulance services. They are responsible for:
Emergency planning
Training
Emergency radio communications
Emergency social services
Neighbourhood emergency preparedness
Public education
With four recreational facilities, Esquimalt offers a wide range of sporting and leisure activities for all age groups. The CFB Navel & Military Museum provides both a great learning experience as well as a rare glimpse at the area's past. From ancient shorelines, walking trails and magnificent Garry oaks, a host of cultural events, to parks, beaches, and a vibrant night life along with all the amenities a family might need, Esquimalt is a natural and picturesque town that truly has it all.
For more detailed information about attractions, resources and things to do in Esquimalt BC, click on the PLUS sign beside "Esquimalt Attractions" below.
Local Resources and Information